Who can apply
Anyone who is 16 years of age or over can apply for housing by registering an account on this website and completing an online social housing application.
If you have displayed unacceptable housing related behaviour, for example having rent arrears or have committed anti-social behaviour, this may affect your chances of being rehoused. We will also assess your eligibility for rehousing as there are legal restrictions on who we can allocate a property to, for example if you do not have recourse to public funds or if you are an EEA national and do not meet certain criteria. If we are unable to rehouse you due to this we will write to you explaining the reasons for our decision.
For further assistance on registering an account with Leeds Homes click the link below to view a help and guidance video.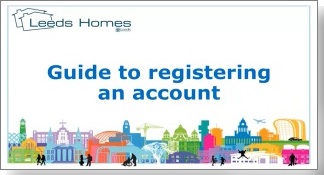 For further assistance on completing a social housing application and uploading documents with your application click the links below to view help and guidance videos.
How you upload documents may differ depending on whether you are using a computer or a mobile device.
What you need
In order to complete the application you will need
National insurance numbers for you and the joint applicant, if applicable
A contact mobile number and email address
The full names and dates of birth of everyone on the application
Five years address history for the main and joint applicant(s)
If you have neither an email address or national insurance number you will need to call into the Leeds Housing Options at Merrion House, 110 Merrion Centre, Leeds, LS2 8BB who will provide assistance with registration.
You will need to provide certain proofs before your application can be validated and before you can start bidding on homes. You need to provide the following information:
The details of all household members, including any support workers assisting you, any pregnancies within the household or overnight child access arrangements and overnight carers requirements.
Any local connections you have to Leeds and any specific areas or Wards
Information about your current home
Why you want to move home
Full five year housing history for yourself and for the joint applicant (if applicable)
Your current income and any property you may own
Details of anyone or an organisation you wish to give permission to act on your behalf, such as a family member or support worker
Any previous issues or legal action you have experienced during your previous tenancies
Any employment or family links to Leeds City Council, BITMO or any housing associations part of the Leeds Homes Register

Proofs for all adults:
Two items from Group A; or
One item from Group A and one from Group B; or
Three items from Group B
At least one item must confirm the current address.
Group A
Passport
UK photocard driving licence (full or provisional)
EU national identity card
HM Forces ID card
UK firearms licence
Blue Badge
Group B
Birth/adoption certificate
Marriage/civil partner certificate
NHS card
DBS certificate
Vehicle registration document
TV licence
National Insurance Number card
Exam certificate
The following must be less than three months old. Multiple statements from the same organisation will not be accepted.
Mail order catalogue statement
Utility bill (gas/electricity/digital television/mobile phone/internet)
Credit card statement
Mortgage statement
Letter from support worker/head teacher
Bank/building society statement
Store card statement
Proofs for all children under 16
We will only accept a birth certificate and a current Child Benefit award letter or Child Tax Credit award letter.
You can upload proofs yourself directly onto your application either before you submit it, or by logging back in and adding them at a later date. Alternatively, you can take them to a community hub or one stop centre once you have submitted your application.
What happens next
We will notify you when your application has been registered, or you will be contacted for more information within ten working days. You can then log in to view and bid on suitable homes.